Agricultural Literacy Curriculum Matrix
---
Companion Resource
Print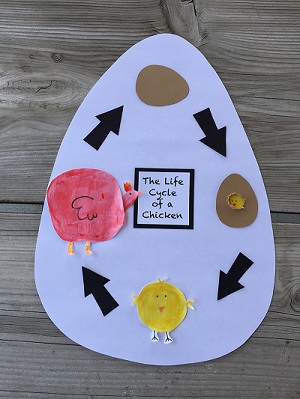 The Life Cycle of a Chicken
Create a colorful, egg-shaped chicken life cycle using the templates and egg tempera paint recipe provided in this activity.
Time to Complete
30 minutes, plus drying time
Materials
Black card stock arrows, 4 per student (template attached)
The Life Cycle of a Chicken title card (attached)
White, tan, or light green card stock
Egg template (attached)
White watercolor paper
11" x 14" drawing paper, 1 per student
Black permanent markers
Paint brushes, 1 per student
Yellow, orange, and red egg tempera

Egg Tempera Materials
1 egg yolk
1/4 teaspoon water
Food coloring
Egg Tempera Directions
Mix egg yolk and water together.
Add food coloring until the desired color is achieved.
For best results, paint on watercolor paper. Egg tempera can also be used to paint on sugar cookies.
Procedures
Use the egg template to trace and cut out two eggs from the same colored card stock.
On one of the eggs, cut a circular crack (see the photo above for reference).
Use a black permanent marker to draw two eyes on water color paper. Using yellow egg tempera, paint a circle slightly smaller than the egg over the eyes. Allow the paint to dry before painting an orange beak. Glue the cracked egg over the yellow chick, allowing the eyes and beak to be seen through the crack.
On a second piece of water color paper, draw two eyes and legs. Paint another, slightly larger, yellow circle. Include two lines on the top and sides of the circle for the wings and feathers.
On a third piece of watercolor paper, trace your hand with a pencil. Use a permanent marker to draw wings in the middle of the palm and an eye on the thumb. Use red egg tempera to paint the palm and thumb of the hand. Use orange egg tempera to paint two legs, a comb, and a beak. Cut the chicken out. Bend the thumb behind the palm until you have the desired head length.
Cut the 11" x 14" paper into a large egg shape. Glue the title in the center. Attach the egg, cracked egg, chick, chicken, and arrows on the large egg to show the chicken life cycle.
File, Map, or Graphic
Author
Lynn Wallin
Organization
Utah Agriculture in the Classroom
Lessons Associated with this Resource