Agricultural Literacy Curriculum Matrix
---
Companion Resource
Print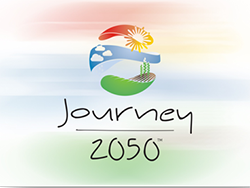 Journey 2050 Program Summary: Project-Based Learning
Journey 2050 is a program helping students engage in world food sustainability at a local and global scale. The program contains seven lessons which are aligned to education standards for both 6-8th grade and 9-12th grade. Use this project-based learning approach as a capstone to develop a plan to support sustainable agriculture.
Time to Complete
15 minutes
Materials
Procedures
Interest Approach
Slides 2–­3: In groups of three or four, write down as many best management practices and NEW IDEAS as you can think of to answer the question, "How will we sustainably feed nearly 10 billion people in the year 2050?"
Think of realistic solutions happening right now and also think outside the box!
Pick one person in each group to share at least two ideas.
Problem-based Learning Plan: Making a Difference
Give each student one copy of the Journey 2050 Project-Based Learning Student Workbook. Students may complete the project as individuals or in groups. Explain that they will be developing an actionable project that supports sustainable agriculture.
Review the United Nations Sustainable Development Goals (SDGs).

Optional: If possible, ask students to download the Sustainable Development Goals In Action app instructing them to explore the 17 goals using the app as they consider what they could do to help achieve one of the goals. The app provides explanatory videos, key facts and figures, as well as suggestions for achieving specific goals.
Optional: Students could also download a free app called, Global Hero. Global Hero allows users to compete in 17 mini-games that showcase each goal at a high level. It's a fun way to learn about each goal.

Review the Journey 2050 lessons 1-7. Some ideas provided include projects to reduce food waste; building a school or community garden; reducing water use; supporting local growers; creating green space; or hosting an agriculture career fair. Students may consider volunteering to help a charity in need, making changes at home to be more sustainable, fundraising for charities contributing to sustainability and educating others about the challenges we face in feeding the world.
Form teams around one or more SDG goals where students think they have a plan for making a difference. Teams should use the Journey 2050 Project-Based Learning Student Workbook to guide their project planning.
From this point forward this activity should follow the Project-Based Learning (PBL) approach. If you are new to PBL or need a refresher visit, https://pblworks.org. These five steps are part of the PBL Planner and help to guide the process:
Project Overview: Key features of your project
Learning Goals: Standards, success skills, literacy skills, rubrics
Project Milestones: Significant steps in the project
Project Calendar: Day-by-day activities in the project
Lesson Planner: Supporting resource with guidance on planning daily lessons to meet the needs of all learners
If you implement a project to improve world food sustainability please let us know. E-mail programs@naitco.org. All of the ideas are reviewed and the top ones are shared with the public. By sharing our ideas and making action plans, we can help sustainable agriculture reach the goal of feeding the world.
Activity 2: Summary of Lessons 1–­7
Slide 4–5: Review as a class what has been learned throughout the Journey 2050 program. Use the Journey 2050 Kahoot! as a formative assessment.
Emphasize to students that they can make a difference in sustainability—not only in agriculture, but across all sectors!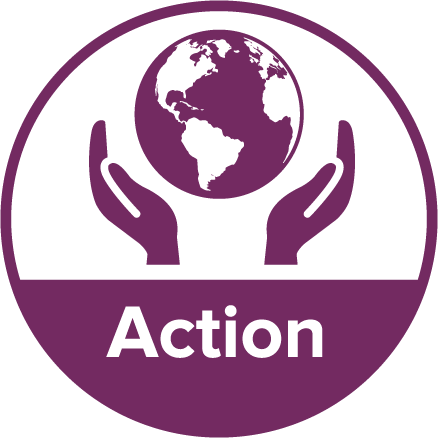 Wrap-Up:
The Sustainable Development Goals are interconnected and drive the sustainability of our communities and our world.
Youth have the power to make a difference in feeding a growing population.
Tweet this: How do we sustainably feed nearly 10 billion people by the year 2050? #journey2050 #feedingtheworldresponsibly
Chance to Win:
A component of Journey 2050 is to inspire and encourage participants to get involved in sustainable initiatives.
Classrooms that participate in the Online Experience and complete the follow-up survey sent in December of each year will be entered for a chance to win $100 donation credit to donate to a charity that contributes to sustainability!
Field trip and classrooms who receive the 2-hour Guest Speaker presentation may also receive a donation credit based on first come, first serve. The Program Coordinator will notify all winning schools and provide instructions to claim the prize at that time.
This is a unique opportunity for the participants to think as global citizens and give back to those who work hard to improve social, economic and environmental performance.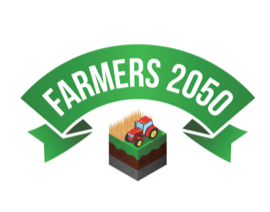 Farmers 2050
If students would like to continue the Journey 2050 game, introduce them to Farmers 2050. (Slides 7–8) The Journey 2050 game is available in the iOS, Android and Windows Stores; however, it wasn't intended for public use. It has timers to make sure the students all start and stop roughly at the same time, and it has a limited number of commodities simply because there isn't enough time in the program to incorporate everything in agriculture.
Students who want to play at home are encouraged to download: FARMERS 2050
FARMERS 2050 is a true-to-life farming game. Droughts occur, mortgage payments come due, and farm chores never stop. Students will discover what it really takes to feed the world.
Players will have one farm, instead of three, to grow crops, raise animals, and craft goods to sell in your local community all the while managing the three pillars of sustainability: environment, economic and social. Sound familiar?!
Along the way, real farmers from across the world will show students what they are doing on their farms.
Features:
Plant, grow and harvest crops, fruits and vegetables
Raise animals
Craft and sell goods with local partners
Source ingredients from around the world
Get help from local experts such as an agronomist, veterinarian or mechanic
Customize and decorate your farm to make it one-of-a-kind
FARMERS 2050 is FREE to play and there are no advertisements or in-app purchases. It is available on iOS and Android devices.
Learn more at www.Farmers2050.com
30 Second Preview: https://youtu.be/dWxNwQKhbJg
File, Map, or Graphic
Author
Debra Spielmaker and Lindsey Verhaeghe
Organization
National Center for Agricultural Literacy and Nutrien
Sources
The Journey 2050 program was originally developed by Nutrien in collaboration with Calgary Stampede, Alberta Canola Producers Commission, Nutrients for Life Foundation, and Agriculture in the Classroom Canada. Authors and contributors were drawn from each of these organizations under the direction of Lindsey Verhaeghe (Nutrien) and Robyn Kurbel (Calgary Stampede.) The lessons were updated and revised in 2017 with contributions from the original J2050 Steering Committee, the National Center for Agricultural Literacy, and the National Agriculture in the Classroom Organization.
Lessons Associated with this Resource