Agricultural Literacy Curriculum Matrix
---
Companion Resource
Print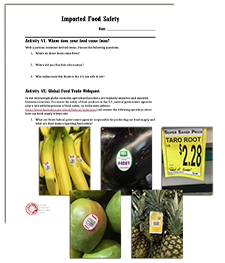 Imported Food Safety
Through this web quest, students will examine where their food comes from, federal agencies involved in protecting our food supply, how imported foods such as honey present a safety challenge, and what measures are being taken to meet these challenges. This activity can be paired with secondary lessons on food safety.
Time to Complete
50 minutes
Materials
Imported Food Safety student handout and teacher key
Student access to the internet for the web quest
Procedures
Background Information
A major societal concern is the protection of our nation's food supply. In our increasingly global economy, agricultural products are regularly imported to meet consumer demand. Various federal agencies play a key role in protecting food safety via inspections of imported food. Their application of science, engineering, and technological advances can be applied to address the issue of ensuring food safety in the U.S.
Social, economic, and political climate has impacted global agriculture trade and has resulted in importation of a multitude of products which then enter the U.S. food supply. Recent legislation has updated government regulation and inspection of food imports. Students may or may not realize where their food comes from. This activity illustrates the importance of imports in attaining many agricultural products that are taken for granted.
In the U.S., consumers eat nearly 400 million pounds of honey each year. Domestic beekeepers produce approximately 150 million pounds of honey each year (USDA National Agricultural Statistics Service). The remaining 250 million pounds of honey is purchased from foreign suppliers. This honey is not just served on toast or in tea. Half of the honey consumed in the U.S. is incorporated into a variety of processed foods such as bread, cereals, and cookies. Regulation and inspection of imported honey is a key step in protecting the safety and integrity of our food supply chain.
Activity Procedures
Give each student one copy of the Imported Food Safety student handout. Show students the image below of imported produce or bring in actual produce labeled with country of origin labels. Have students discuss their answers to the following questions with a partner and record them under the "Activity #1" section of their handout:

Where do these foods come from?
Where did you find this information?
Who makes sure that foods in the U.S. are safe to eat?

Discuss answers with students to gain a sense of their prior knowledge of imported foods and the governmental agencies involved in food inspection and regulation.
Provide students with access to the internet and instruct them to complete the web quest and record their answers in the "Activity #2" section of their student handout.
After students complete the web quest, review student answers and conduct a discussion to determine that students understand which federal agencies are involved in food safety and which foods or other products they are responsible for protecting.
Have students complete "Activity 3" by answering the true/false statements. Guide students to understand how often honey is used in our foods and consumed by us even if they don't use pure honey.
Have students read the New York Times' article "Food Detectives on a Tough Case." and answer the associated questions on their own or with a partner to complete the student handout.
Divide students up into small groups and ask students to make a list of problems with honey laundering (contaminated with illegal antibiotics, adulterated/not a pure food product, lack of government oversight, fraud). Discuss the new legislation and how they feel the advanced chemical testing of honey or new FDA regulations will address issues of food safety.
File, Map, or Graphic
Author
Burke Morrow and Erin Ingram
Organization
University of Nebraska-Lincoln
Sources
Author Affiliations:
Burke Morrow: Lincoln East High School, Lincoln, NE
Erin Ingram: University of Nebraska-Lincoln, IANR Science Literacy Initiative, National Center for Agricultural Literacy
Lessons Associated with this Resource