Teacher Award
---
State & National Teacher Award 2008
Patti Seeholzer
River Heights Elementary School, River Heights, Utah
3rd Grade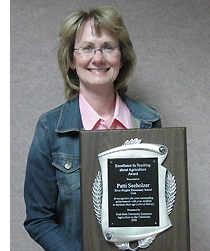 There is a growing excitement about agriculture in Ms. Patti Seeholzer's second grade classroom at River Heights Elementary School. Traditional core subjects of reading, writing, and arithmetic are supplemented with hands-on activities using eggs, cotton, and honeybees to teach students about math, science, social studies, and healthy lifestyles.
Patti Seeholzer received Utah State University Extension's Agriculture in the Classroom (AITC) Excellence in Teaching about Agriculture Award for 2008. Additionally, Seeholzer has been selected as one of five national winners for this award and will be recognized in June by the United States Department of Agriculture and the national AITC Consortium at the National AITC Conference in Costa Mesa, California.
Seeholzer says integrating components of AITC's agriculture-based lessons and activities with her own lesson plans was a natural fit. For example, as part of a science unit, Seeholzer brought 12 fertile chicken eggs into the classroom, and students predicted the hatching times and dates of the chicks. For some students, this was their first opportunity to hold a live chick and feel its egg tooth. The excitement was contagious—students from all other grades gathered in the classroom before and after school to see the baby chicks. However, the learning did not stop there: students read books and watched videos, wrote in their journals, performed a choral reading, and put together puzzles—all about the life of chickens!
During a study of cotton, Ms. Seeholzer asked her students if they were wearing denim. Most students did not know what denim was. Consequently, students were engaged in examining Levi's, t-shirts, yarn, cotton balls, dollar bills, oil, and tape to discover that these items had cotton in common. Students even experienced cotton ginning firsthand by picking the seeds from cotton bolls. They were astonished to learn of the many seeds hidden inside and how difficult it was to remove them by hand. The classroom discussion of cotton and the Civil War and slavery gave students a meaningful connection to history.
Other units of study allowed further explorations into the importance of agriculture in the students' lives. A parent brought his beekeeping hive into the classroom. Students went "loco for cocoa" during a "sweet" lesson on the history of chocolate. In addition, students measured gummy, plastic, and live worms during their "living and nonliving" unit.
"I love what I am doing as a classroom teacher," says Patti Seeholzer. "I want to instill my love of learning in my students. When I am excited about what we are studying, I feel this energy transfers to the children through my teaching."