Cultivating Knowledge - Connecting Us All
utah.agclassroom.org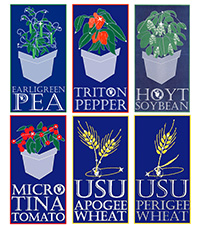 Dwarf "Space Plant" Seeds
The USU Crop Physiology Laboratory has identified and characterized six varieties of dwarf crop plants. These short, early-flowering plants are ideal for growth on the International Space Station (and also in classrooms!) where there isn't room to grow full-size crops or where light is limiting. Fixtures with compact fluorescent bulbs and/or fluorescent tubes placed directly above the plants will provide adequate light for these cultivars. Order this kit online from agclassroomstore.com.
Procedures
For US teachers and nonprofit research, the following varieties of dwarf "space plant" seeds are available:
All seeds were bred using conventional plant breeding techniques.
Author
Utah Agriculture in the Classroom
Lessons Associated with this Resource