Agricultural Literacy Curriculum Matrix
---
Companion Resource
Print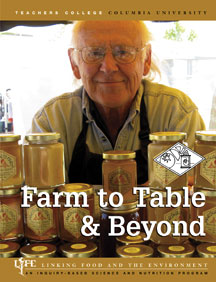 Farm to Table & Beyond
This curriculum unit is designed to teach science through study of the food system. It investigates two questions—what is the system that gets food from farm to table, and how does this system affect the environment? Students will learn about our complex and highly technological global food system and how the parts of this system interact and influence each other. Lesson plans include a number of hands-on investigations, helpful background information, practical teaching tips, and tools for assessment.
Procedures
Author
Linking Food and the Environment (LiFE)
Organization
Teachers College Columbia University
Sources
Developed in cooperation with the National Gardening Association.
Lessons Associated with this Resource