Agricultural Literacy Curriculum Matrix
---
Companion Resource
Print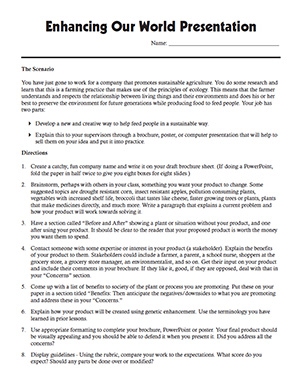 Enhancing Our World Research Activity
The Enhancing Our World research activity provides instructions and a rubric for students to create and promote a potential new agriculture product using genetic technology and science. The activity would be best placed after students understand basic terms and concepts of genetics, heredity, and biotechnology.
Time to Complete
Two to three 45-minute class sessions, plus homework
Materials
For each student:
Paper for brochure or posters or computer access with presentation software
Student Assignment Packet
Procedures
Review the Student Assignment Packet and make any necessary changes to fit the needs of your classroom. You may want to include some or all of the following:

Student assignment packet
Quality Rubric
Reading assignment on sustainable agriculture

Provide each student with a copy of the Student Assignment Packet. Discuss the packet and instruct students to work in pairs.
Explain the timeline and have them begin the work under your supervision. Use MBWA (manage by wandering around) to monitor their progress, increase focus, and give guidance. It is important that they solve their problems and struggle in the creative process! Refer them to the assignment rubric for direction.
Assign readings on using biotechnology to help develop sustainable agriculture as needed.
Allow class time for students to work on projects but make most of the work homework.
On due date, if doing brochures or posters, collect and show on document camera while the creator(s) explain their process and meaning. If you have no document cam, you can have students take pictures with their cell phones and send to your email, which you then project and have them present. (If you have no projector, you can just collect and grade each.) PowerPoints can be collected into a period by folder and shown by you while students present. Probing questions will help assure that they can explain their work. Having their classmates keep notes of all presentations helps reinforce the lesson and time on task.
File, Map, or Graphic
Author
Mandy Garner
Organization
California Foundation for Agriculture in the Classroom
Sources
The development of this activity was funded in 2014 by Monsanto Fund to provide teachers with lessons in science and biotechnology that meet Common Core and Next Generation Science Standards.
Executive Director:Judy Culbertson
Layout and Design: Nina Danner
Lessons Associated with this Resource