Agricultural Literacy Curriculum Matrix
---
Companion Resource
Print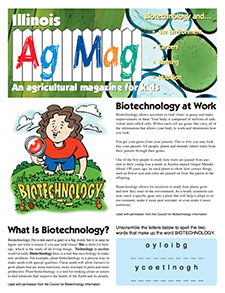 Biotechnology Ag Mag
The Biotechnology Ag Mag is an agricultural magazine written for upper elementary or Jr high students. In this issue, students will learn how biotechnology works both within the cell and in the environment, how farmers utilize it to grow crops worldwide, and read about two different career options. The publication is available for students and teachers to view online, either at a personal computer or as a class on a projection system.
URL
Author
Illinois Agriculture in the Classroom
Sources
This issue of Ag Mag has been provided by ASGROW, Monsanto, DEKALB, Illinois Agriculture in the Classroom, The IAA Foundation, and the Illinois Farm Bureau.
Lessons Associated with this Resource